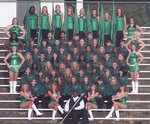 2012 Marching Band
The Gordo High School Grenadier Band performs at all Varsity football games and pep rallies throughout the season. They also attend the Crimson Cavalcade, a marching contest, and MPA annually as well as performing at the Gordo area Veteran's Day and Christmas Parade. They perform a Christmas concert in early December and a Spring concert in early May. In addition, they host the West Alabama Marching Band Festival in late October or early November each year.
The Grenadiers were recently featured as the Band of the Week on ABC 33/40, WVUA, and Fox 6. The band marched in Disney World in 2011 and plans to march at Universal in April of 2013.
Congratulations to our All State and All District Band students!
See the list in the news section!
The band performed at the Moody Music Building on the campus of the University of Alabama on February 20, 2013 for MPA State Competition and received all Superior ratings with distinction.